At Virginia Beach Bounce House, we offer the most unique venue in town for your next big event! Hop around our Private Bounce Zone , while hosting a birthday party, team party, fundraiser, or large corporate event for up to 350 guests.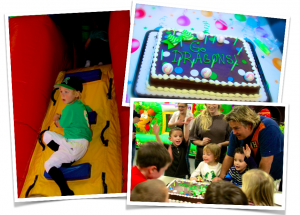 All of our venues  can be  custom designed to meet your requests in terms of timing, entertainment and catering services. Our Sales Managers are happy to work with you to create your ideal event.
Celebrating something monumental? We specialize in school parties, holiday parties, birthday parties, home coming events and much more.
Birthday Parties at VA Beach location

We can offer a solution to fit every budget and vision, while accommodating you and your guests in a complete private festive environment.  In short, the Bounce House  is yours! And only for your party alone.  No chaos and no strangers at your party, we guarantee! Limited availability. Call for more information.
And while you and your guests enjoy our 4000 sq.ft Private Bounce Zone, you are not limited to it. Our 10,000 sq ft Public Zone, although not exclusive, but offers extra fly time for your party. You can choose whether to bring your own food or to go with our catering and beverage options, as well as bringing anything else additional you might need for your party.
Hosting your next big occasion with Bounce House Virginia Beach will exceed your expectations and provide your guests with a truly memorable corporate event, private celebration, or birthday party.
To begin building your venue please call 757-306-1334!