Fun the Way You Like It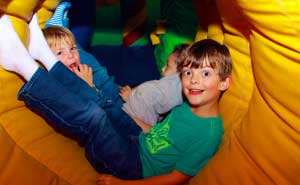 Open Jump at the Bounce House allows your child to play until they are exhausted on exciting inflatables – and plenty of places to run – without a party reservation.  We also have a special place for smaller kids with inflatables for toddlers.  Families enjoy bringing their child(ren) to our temperature-controlled inflatable playgrounds for open jump every day of the week.
Studies show that the amount of time children engage in imaginative active play is decreasing – up to 8 hours of free play each week over the past two decades. Uninterrupted free play helps kids in creative development, self-regulation and can impact how they behave in social settings, according to the American Academy of Pediatrics.
At Bounce House  – our Arenas filled with huge inflatables and other attractions offer endless opportunities for kids of all ages to explore and conquer new environments and uses during a private birthday party or our OPEN JUMP.
Known to kids and parents as the place to have fun, playing on giant inflatables, when hosting private birthday party or stopping anytime for Open Jump, Bounce House is on a mission to encourage families to engage in more time for play.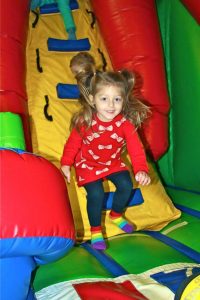 Children will have unbridled FUN and engage in healthy physical exercise while you use our free wi-fi to complete a project or chat with friends or other parents.  Contact your favorite location today or just drop in to the Bounce House, the place where FUN never stops!
Adult admission is free, but parents are expected to watch their children in the play area.  No shoes are allowed in the play area for the safety of our customers. As such, Health Department regulations require EVERYBODY (Adults and Kids) to remove their shoes and wear socks.  If you forget socks, we sell them at the front desk.